Best Management Practices



Click Here

for the New VGCSA BMP Website
The Second Edition of Environmental Best Management Practices for Virginia's Golf Courses summarizes best management practices (BMPs) and provides details in accompanying recommendations specifically adapted for golf courses in Virginia using the results of current research, the experience of golf course superintendents in implementing BMPs, golf industry representatives, and State regulators with an emphasis on the protection of water quality. VGCSA developed the document in cooperation with GCSAA, USGA and other national sponsors. Regional contributions were received from representatives of Virginia Tech, Virginia governmental agencies, allied associations of the Virginia Golf Council, and private sector partners.
Golf course superintendents, current and prospective golf course owners, golfers and other stakeholders, and regulators will find the information contained within this document to be useful in understanding the use of BMPs for the protection of environmental quality. In addtion, superintendents will be able to create their own facility BMPs - "How to" workshops are planned.
Click Here or on the image to download the document.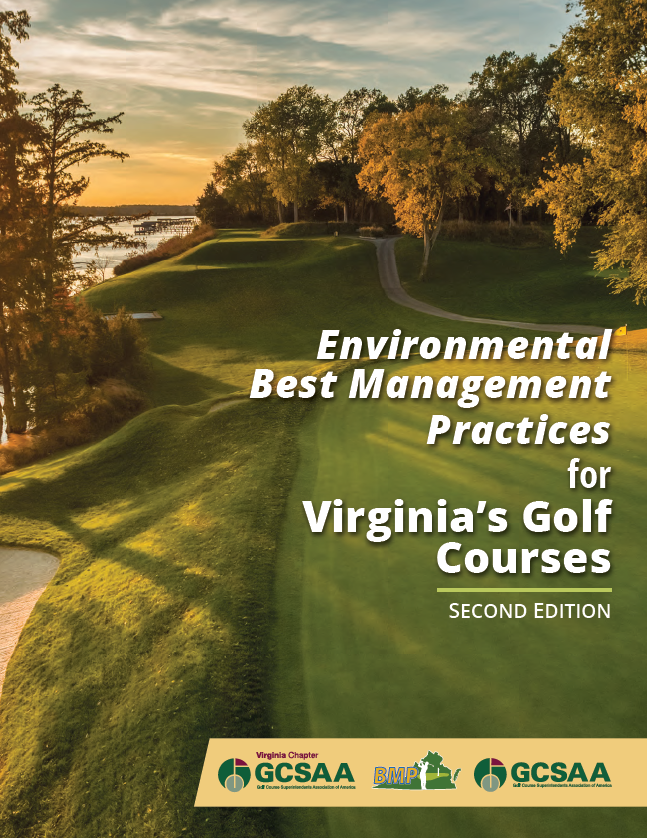 GCSAA members – start your personal online facility guide for your club now: click here and login with your GCSAA credentials.
Learn more by watching short instructional videos or longer webinars that walk you through online guide and dive into specific chapters: click here.
Acknowledgments
The GCSAA and EIFG wish to thank the University of Florida, Institute of Food and Agricultural Sciences, faculty Dr. J. Bryan Unruh, Dr. Travis Shaddox, Dr. Jason Kruse, and Mr. Don Rainey, who worked on this project, providing their knowledge and expertise to help the golf course industry; the USGA for its grant to fund this important project; the volunteers who served on the task group to review BMP and provide technical assistance; and the Florida Department of Environmental Protection for permission to copy its publication Best
Management Practices for the Enhancement of Environmental Quality on Florida Golf Courses.
Additional Acknowledgements
The development of the second edition was made possible by the Virginia Golf Course Superintendents Association, superintendents in the Commonwealth of Virginia, and turf scientists at Virginia Tech. Representatives from each organization provided their time and expertise to develop and review drafts of best management practices specifically for Virginia designed to protect the state's natural resources. The following committee members contributed their time and expertise to developing this second edition of Environmental Best Practices for Virginia's Golf Courses:
• Timothy Doran, Kingsmill Resort (Committee Chair)
• Mike Augustin, Belle Haven Country Club
• Steven Ball, Ballyhack Golf Club
• Mike Goatley, Ph.D., Virginia Tech University
• Bill Keene, Blacksburg Country Club
• Peter McDonough, Keswick Club
• David Norman, Virginia Golf Course Superintendents Association
• Cutler Robinson
We would also like to thank the members of the BMP committee who contributed a significant amount of time to develop the first edition. These original committee members included: Peter McDonough (Committee Chair), Dick Fisher, Cutler Robinson, Walter Montross, Jeff Snyder and Christian Sain. We would also like to think the external reviewers of the draft final version of this document. The time and effort taken by individuals and agency representatives strengthens our document and ensures its accuracy. Funding and support for this project was provided by the Virginia Golf Course Superintendents Association (VGCSA), GCSAA, EIFG, and the USGA. The GCSAA also provided a best management practices template that served as source material for this project.